Welcome to the first Boys Love and Gay games showcase!
In this showcase, I will present you 11 BL and Queer video games video games that only feature wholesome, consensual sex scenes between two or more male characters. That means no dub-con, non-con, unsafe BDSM practice or anything that would break the "100% consensual" rule.
Please note that we are not here to lecture you about the legitimacy of fictional noncon in media. This showcase is about choice and aims to inform players who do not want any noncon whatsoever in their games about what they can play safely.
Onwards to sexy and safe adult games!
---
1 – Coming Out On Top by Obscurasoft
You are Mark Matthews, a gay college student who decides to come out of the closet, make up for lost time, survive college and find love. COOT features 17 dateable characters of various background and ethnicities with some hilarious dialogues that are sure to get you some good laughs during your playthrough.
Coming Out On Top is the very first gay-themed video game to be crowdfunded. Its Kickstarter campaign, back in 2012, received overwhelming support from LGBT gamers and BL fans.
---
2 – Chasing the Stars by Ertal Games
Set in a futuristic Barcelona, you play as Tirs Abril, a brilliant college student in his quest to take part in humanity's first exoplanet colonization, the planet Alaya. Between balancing his work and social life, sleeping with his teacher, fighting the threat of alien genocide and accidentally turning into a terrorist, it seems like poor Tirs can't get any rest.
Chasing the Stars is partially voiced, and you can choose to top or bottom in most of Tirs' sexual encounters.
---
3 – Teach me Onegai! by Boy Laugh +
Teach Me Onegai! is the short story of how Semel Brösel, a student who just graduated, helps his former teacher and crush Luke Onegai recover from a hangover during the graduation ceremony. Confessions are made, clothes come undone and if you make the right choice, they can have some sexy times.
This game puts an emphasis on consent, and Semel makes sure Luke sobers up before even attempting his love confession.
Download (free) | Official website
---
4 – Tomai by DarkChibiShadow and Arcade Party
Tomai is a young man from a fishing village where humans and aquatic creatures live together in harmony. In two weeks will take place the annual Night Festival, after which Tomai will have to take his father's place as the village Chieftain.
If you like cute monsters or are looking for something fun and fluffy, then Tomai is for you! Tomai is about family bonds, friendship, trying to be an adult and depending on your choices, falling in love with your two monster friends. You can also check out Yarrow Valley and DCS's other games.
Download (free) | DarkChibiShadow itchio | Arcade Party itchio
---
5 – Yearning: A Gay Story by Bob Conway

Yearning: A Gay Story (or YAGS) is a visual novel featuring a diverse cast in which you play as a gay man starting his freshman year of college.
Bob Conway also worked on a short, free game called Earth Boys Are Easy during the 2018 Bara Game Jam, which also features consensual sex with friendly alien boys.
---
6 – Starfighter: Eclipse, by HamletMachine and Date Nighto
Starfighter: Eclipse, can be considered a spin-off of the famous Starfighter series, an erotic comic by HamletMachine. You follow Helios, a new "Fighter" aboard the starship Kepler, as he meets and interacts with Starfighter's main cast as well as his "Navigator", Selene, and tries to prevent aliens from invading the Kepler. Threesome is optional.
SF:E goes to great lengths to depict a healthy relationship between Helios and his potential partners. While Selene is the only character Helios can truly "romance", other bachelors are more than willing to have a twosome or threesome with him, should he gain their trust.
Official Website | Starfighter Comic | itch.io
---
7 – See No Evil by BigFingers
See No Evil is a retro-looking, point and click game of the "Bara" variety. You play as Orsino, a simple countryman who wakes up naked in a strange castle full of demons. He has to explore the place and interact with the demons and Satan himself in order to find clues about how he can get back home.
Contrary to what can often be observed in games labeled "bara", See No Evil only features sex scenes in which both Orsino and the demons are willing and eager participants. SNE has been praised for its story immersion and quality writing.
Download the demo | Official website |
---
8 – Harry Potter and the Mysterious Thief by Rivars Studio
A Harry Potter fangame! Three years after the end of the Wizarding War, Harry becomes an Auror and winds up working with Draco to solve the "Mysterious Thief" case. Harry Potter and the Mysterious Thief come in two parts, both of which involve some kissing and short sex scenes between, obviously, Harry and Draco.
While the Drarry (Draco Malfoy x Harry Potter) fanbase is past its golden age, this ship is still going strong with more than 30,000 Drarry fanfics referenced on AO3 and new ones being posted every day.
Official website (free) | Tumblr
9 – Seiyuu Danshi! by Meyaoi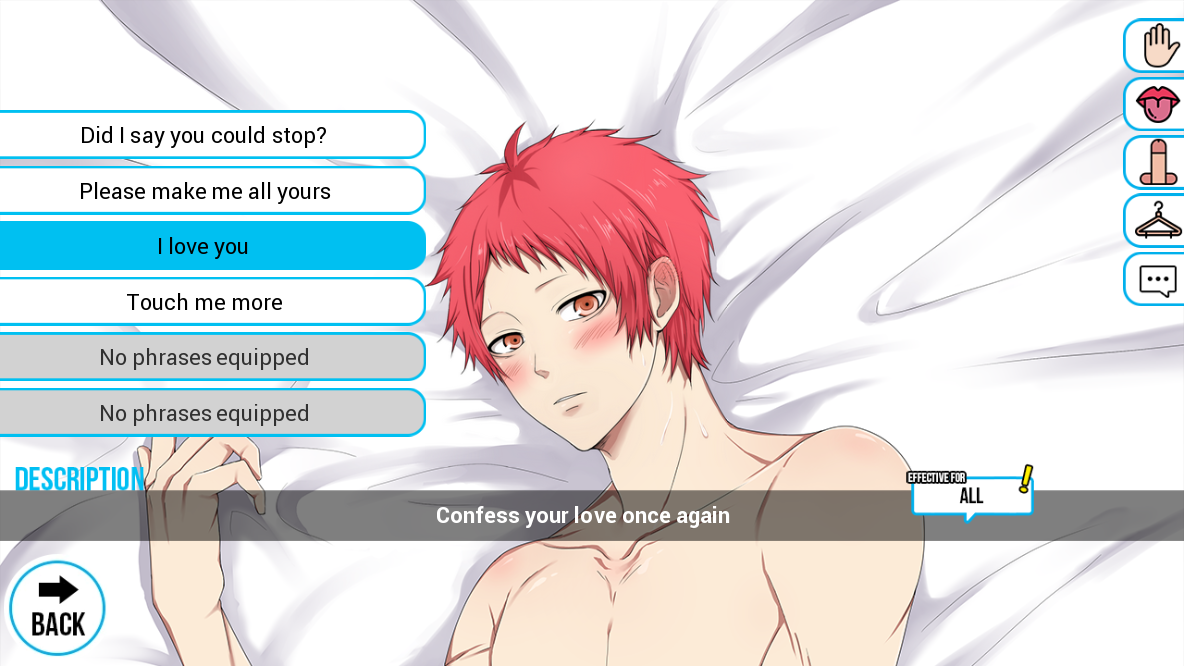 On top of a plethora of kinky, consensual sex scenes, Seiyuu Danshi features a foreplay mode in which you can tease and arouse your very eager boyfriend.
Some free and paid DLCs, as well as the game's actual voice acting are currently in the work and expected to be released later this year.
Official website | itchio
---
10 – Tusks: the Orc Dating Sim by Mitch Alexander
Tusks: The Orc Dating Sim is a game in which, as the title implies, you can choose to date a handful of friendly orcs of various body types, plus one human one selkie and a boar, in a semi-fantastic Scotland.
Great attention was given to Tusks' worldbuilding and possible choices that affect what kind of relationship you want with your orc-ish partner; be it friendship, romance, or something else.
Official blog | itch.io | Tusks side stories

---
11 – Chess of Blades by Argent Games
Last but not least and my favourite in this list, Chess of Blades is the closest thing to an Otome game you will find here. All paths the protagonist Rivian takes involve a good amount of romantic buildup in-between crime investigations and surviving murder attempts until he and his love interest finally decide to isolate themselves in a room – and proceed to have some kinky but loving sex.
Note that all dialogues (including the sexy bits) are voiced by professional voice actors, making the whole experience all the more entertaining.
Official website | Steam | Itch.io
Also games that are still in the work but will also feature consensual-only sex scenes: